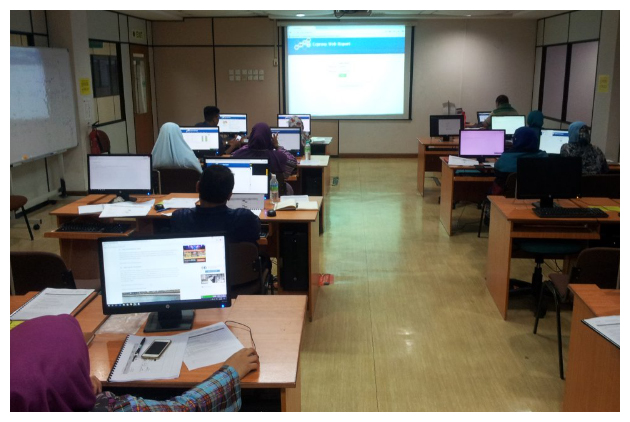 A heavily demanded facility that the library offer is the PC with an internet connection for students' academic use. Use of these PCs is limited to 2 hours per day. To use these PCs, you are to log in to these PCs at the library (if available) or do a reservation (if occupied) for a time later in the day or the day after. A library barcode will be used as a username and PIN as a password in order to use this computer.
Computer Labs
Computer Labs are available at Level 2 and 3. These labs are especially for user education classes conducted by the Library. When there are no classes held, users are allowed to use the PCs for academic purposes.
Multimedia Opening Hours
Opening hours for computer labs at level 3 will follow the opening hours for the Special Collection counter.

Internet Workstations
Internet-enabled computers are also available at level 1, 3 and 4. Users are required to login to use these computers and usage are restricted to 2 hours per day for academic use only.
OPAC
To find books or information resources, customers use the Online Public Access Catalogue (OPAC) stations which are available on all levels.
Full Text Terminal
A full text terminal is available at Level 2 and Level 1. This terminal is dedicated for searching and viewing full text digitize contents from our Digital Library such as Manuscripts, Theses and etc.
Wireless Facility
Personal laptop/notebook use in the library is facilitated by wireless network. To utilize this facility, you are to register your laptop at Information Technology Division (ITD). The library provide power charging points for your personal laptops/notebook. look out for areas identified for this purpose.

International Islamic University Malaysia
P.O. Box 10, 50728 Kuala Lumpur
Phone : (+603) 6421 6421
Fax : (+603) 6421 4053 Email : webmaster@iium.edu.my
Dar al-Hikmah Library (Central)
International Islamic University Malaysia (IIUM)
P.O Box 10, 50728 Kuala Lumpur. Malaysia
Phone:
1) 03-6421 4825 (Circulation Counter)
2) 03-6421 4815 (Readers Advisory Desk)
Fax : 03-6421 4855
Email: library@iium.edu.my
*** For Library Clearance Application, please
CLICK HERE
Researchers, Lecturers & Alumni

Business, Government & Related Links