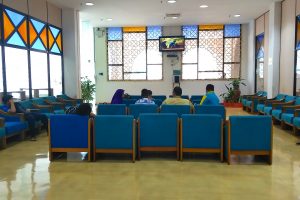 General Reading Areas
General reading areas with ample seats are available on all level/floor of the library.
Post Graduate Lounge
Post Graduate Lounge basically meant for post graduate students to enjoy reading or having a mild discussion. Located at level 3, its ambiance offers customers to feel relax while studying.
Newspaper Reading and News Watching Area
We have separate newspaper-reading and news-watching areas for the ladies and gentlemen at Level 2. Customers can enjoy reading daily newpapers while watching selectec channels of television program.
Leisure Reading Room
Leisure Reading Room at Level 2 houses books meant for light or leisure reading.

International Islamic University Malaysia
P.O. Box 10, 50728 Kuala Lumpur
Phone : (+603) 6421 6421
Fax : (+603) 6421 4053 Email : webmaster@iium.edu.my
Dar al-Hikmah Library (Central)
International Islamic University Malaysia (IIUM)
P.O Box 10, 50728 Kuala Lumpur. Malaysia
Phone:
1) 03-6421 4825 (Circulation Counter)
2) 03-6421 4815 (Readers Advisory Desk)
Fax : 03-6421 4855
Email: library@iium.edu.my
*** For Library Clearance Application, please
CLICK HERE
Researchers, Lecturers & Alumni

Business, Government & Related Links